Japan 2011 Memory Dump
February 10, 2014
I have been meaning to write up this trip as a proper narrative for over two years, but it is just not happening. I did manage to write up the biggest highlight (Gacharic Spin and 1000say), and even the biggest highlights of the following Tokyo trip (Clammbon at 5656 Kaikan and Spoken Words Project), but it has gotten to the point where it is probably best just to post my notes and let go of it. I don't need to compose stories about my experiences in order for them to "count". Writing up just one or two highlights each time seems like a good goal. So here's the unpolished dump of notes.
In December 2011 we took our first trip to Japan in three years, my tenth visit overall. Here I am writing down everything that happened before I forget.
When I arrived at H's parents' house, there was a huge pile of Clammbon and Spangle call Lilli line merchandise waiting for me. I'd ordered them online and then totally forgotten about them. Her father also had the concert tickets that he'd picked up at the convenience store for me. We took a family trip to Yamada Denki for Panasonic steam emitter thingys, and the appropriate electrical converters to use them in the USA.
Concerts were the theme of this trip for me. I insisted to H that I should go see as many as possible, something I would have compromised on before. First up was Kimura Kaela Presents Otokokusai Onnakusai, at Liquidroom Ebisu. Toe, Asparagus, some guy, kowloon, Kimura Kaela. Hot; I was dressed much too warmly. Crowded. Dark. Super exciting. It was fun to watch the different kinds of audiences for the wide variety of acts. Very nice to sit in the dark walkway by the lockers, out of sight of the stage, and just listen. The end of the year is a big deal, so the Toe frontman gave a little speech in which he talked about his hopes for the coming year, remembered the March 11 earthquake, and criticized the use of nuclear power.
On days when there was nothing special scheduled, I did a lot of lying on the electric hot carpet in at H's parents' and reading The Book of the New Sun, fading in and out of sleep. It was good to be able to switch between the physical book, iPad, and iPhone. Finished the first two books on this trip. Played Steins;Gate at night in bed at the condo, trying in vain to finish the game in time for the 5pb event on New Year's Eve.
Clothes shopping, of course. Graniph in Ueno. Uniqlo. Itou Youkadou.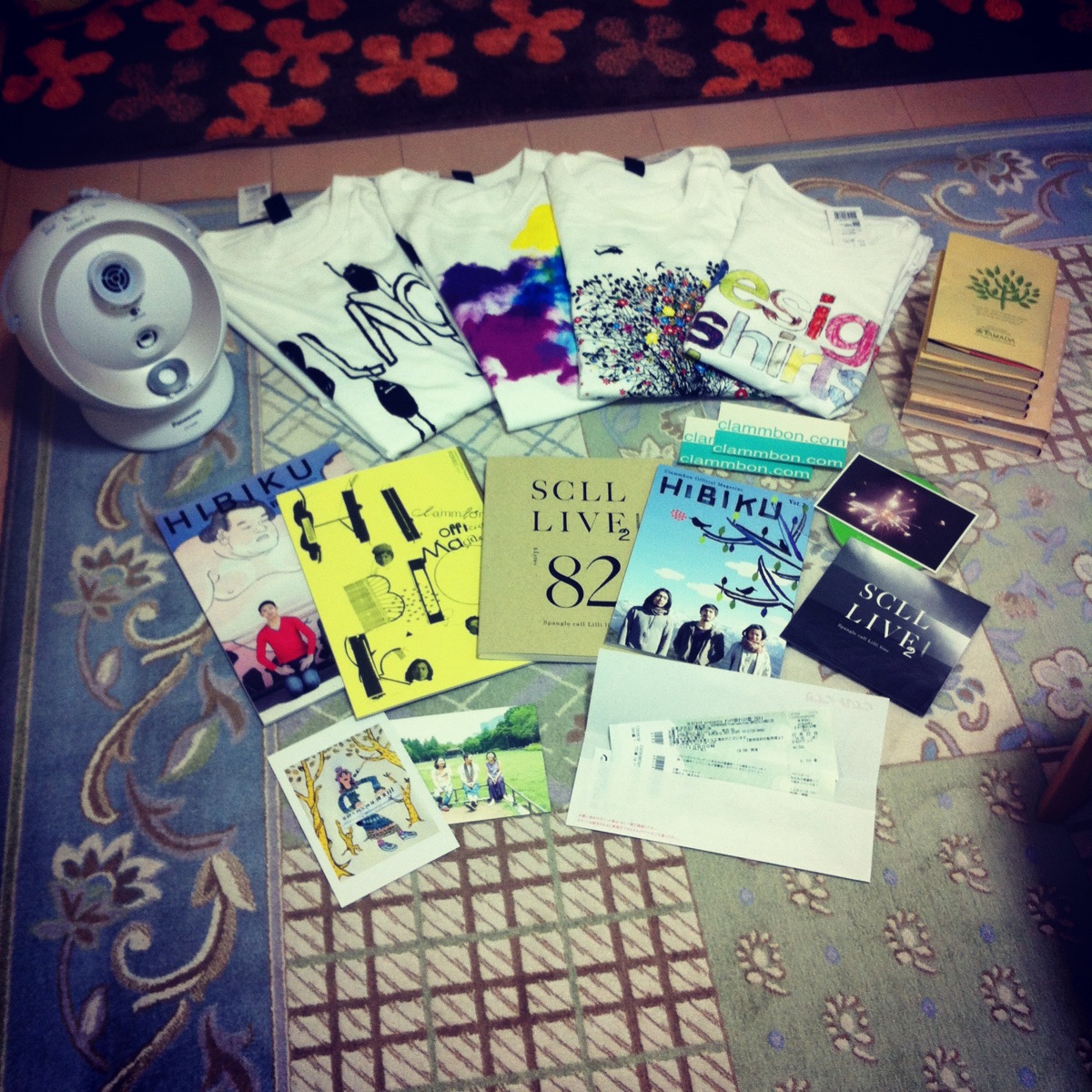 Went to Akihabara for the first time in a while, after getting disillusioned with it a few years back. H's brother insisted that it is still the best place to get the sort of thing I was looking for. Had a high-pressure geeky shopping trip with both H and her brother following me around. Headphones first, then books and games. They kept commenting on games as I looked at them, suggesting games, asking questions, telling me to get help from the staff. I just wanted to enjoy looking around, like old times! Really enjoyed seeing the Yellow Submarine tabletop RPG shop. Proud that they were imitating something that we do well in the USA. Ended up with 6 video games, 4 artbooks, a card game, and 83(!) comics & light novels.
Met up with a friend for H's sister's voice school performance in Shinjuku. Really excellent atmosphere in underground bar with 35 years of history. After, okonomiyaki. Then geeky shopping alone. My normal spots on the East side — Gamers and Liberty — are gone.
Met up with Sekky for her brother's choir thing, which ended up being a Catholic mass. Interesting to see the mass in Japanese. After, Okinawan food. The way you can walk into the restaurant section of the major department store of any station in Tokyo and find a variety of excellent food is still impressive to me. Especially when a single country's cuisine can provide so many totally different restaurants.
Wearing M's coat from Taiwan.
Chinatown; eating from food stands while walking around. Visiting the aunt & uncle in Yokohama. Enjoying the luxury of the kotatsu. Tech support on truly horrendously designed nengajou software. Holding my tongue while getting a Chinese-medicine checkup performed on me by the cousin.
Sushi at Hanahana was really nice, but my lung started acting up. Had to take it easy on the way back.
Shibuya: a nice haircut and "head spa". This was the first time I didn't get a haircut from H's father immediately upon arriving, because we were planning on going to this salon. The guy taking care of me was obviously sick, and seemed apologetic and impressed that I even noticed and cared. Kinda-crappy ramen. Went to Mandarake, but took the secret way in as usual.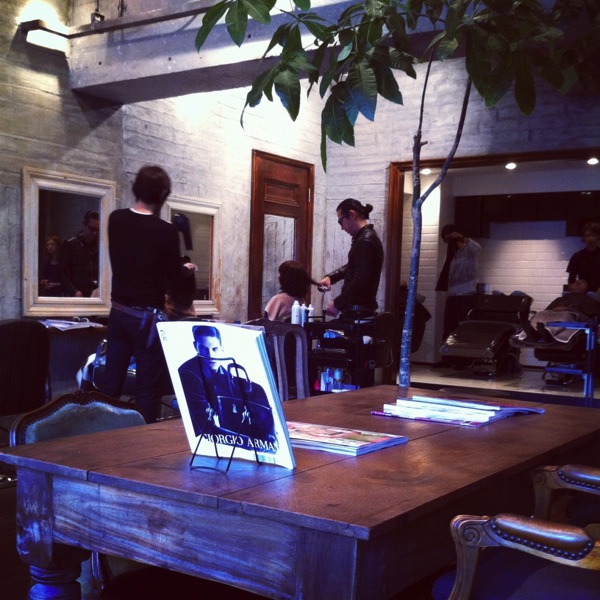 H went back, and I made my way to scope out the venue for that night's concert: "2011 Year End of Girls". Wandering the back streets of Shibuya alone at night was actually mildly creepy. Once I had found the place and confirmed that it was where I needed to be, I went looking for food. Ended up at Mos Burger, for the sake of convenience and speed. And I hadn't had it in about 10 years. Pretty good, now that my taste and appetite are closer to the Japanese side than the American side.
Mos Burger. Gacharic Spin, 1000say, tokage, Susie Love. Meeting bands. Meeting the Gachapin photographer and English publicity guy. He seems so Andy. Feeling pretty totally fine on my own. Kinda bothered by the too-enthusiastic fans trying to shove me out of my hard-earned front row spot, standing on the barrier, and yelling while the band is trying to talk. Wi-Max is fantastic to have, compared to previous trips where Internet access was so controlled.
That Gachapin show is going to be one of the crucial memories of my life. I need to capture just a couple more things about it.
Being greeted by F Chopper Koga before the show, and being lured over to the table by her waving. Talking to her about being a bassist and being about to start a band. Buying her DVD and getting a signed instant photo. So surreal and awesome. Afterwards, being introduced to her and Tomo-Zo by their photographer.
Being right in front of MAN, the 1000say guitarist, and rocking out super hard at each other. For the final song he leaned way out with his foot on the barricade, enjoying my encouragement. After the show, talking to the band members; someone ran off to find NON, the drummer, so I could have a full-band autograph.
Comiket day one. It was nice.
Comiket day three, on my own. Got some stuff by famous dudes. Got interviewed for TV. Pretty much ignored the minor dudes. Actually also kind of disappointed at how clustered the topics seem to be. A few scattered old or rare topics, but mostly everyone is drawing the same characters with the same themes. Not feeling left out or sad or overwhelmed anymore, really, especially since starting to follow stuff like 2ch matome twitter guys. It is usually just embarrassing. Of course there is great work to be found and great people to be met, but not through being a super intense otaku.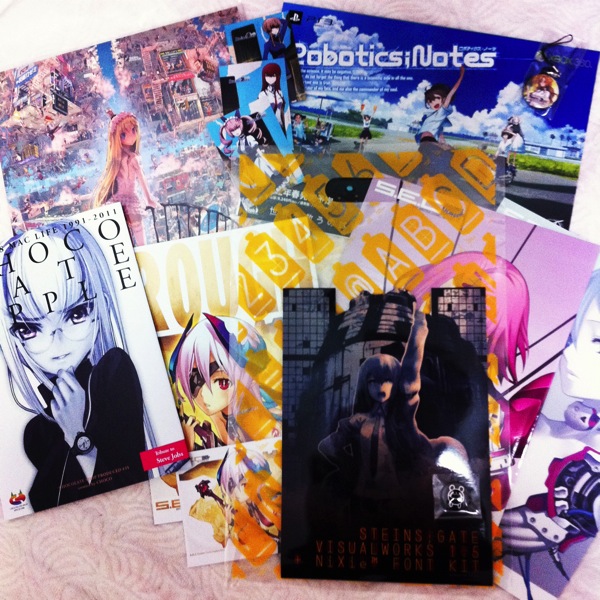 Talking to E about how being a dentist is like making software. Really unhappy with my Japanese skill on this trip.
Starbucks in Ginza, waiting for S;G cafe to open. Donut. Reading. Fending off headache. Starbucks is where the white people go.
Steins;Gate cafe. Super uncomfortable table of six, consisting of 2 groups of two and 2 people alone. Nobody speaks across group lines. The other guy there alone at least knew the waitress dressed as Kurisu. Felt super self-conscious. Wished I was more outgoing, or that it was more normal for Japanese people to strike up conversations with strangers. Because the staff person couldn't find seat 41, like my card said, she directed me to 29. This caused serious order and bill confusions. I am pretty sure it was not because I misunderstood and did something wrong. Seemed like lots of other people were having problems, too. Running a restaurant is harder than it seems. Really happy to see lots of women there; a pretty good balance in that fandom.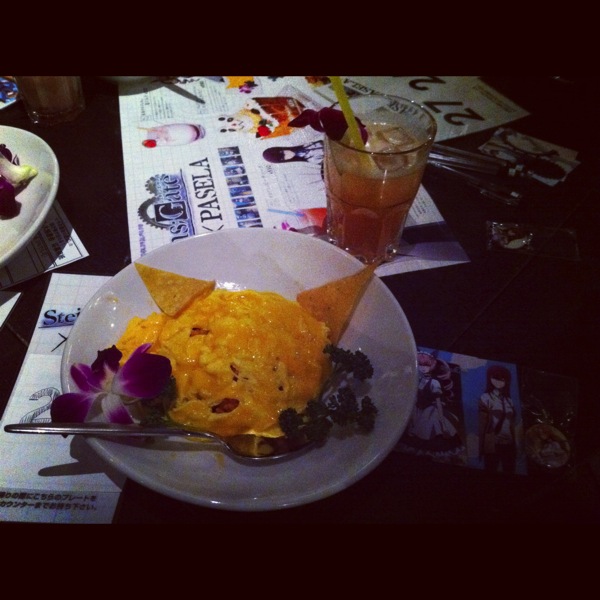 5pb concert was pretty neat. I enjoyed being surrounded by people who were fans of the thing I was a fan of, and seeing some of the creators talk about it. Not impressed by people constantly yelling "oppai" at the Nae voice actress, nor of obnoxious Afilia Saga otakus. Really pretty disappointed at the whole hyper-polished, vastly-hollow post-Morning Musume girl puppet group thing, which seems to be at its peak right now.
In the end, the three concerts ended up being awesome in reverse order of how excited I was for them. Gachapin et al. was unbelievably fun and rocking, and included meeting very cool people, and yielded a very cool new band to listen to (1000say). The Kimura Kaela thing was very fun, even though I missed part of the Toe set. And the 5pb thing was neat but short, was kinda poorly organized, and left me a bit more alienated than excited by being among those nerds.
Caught the end of Kouhaku Utagassen. Would have liked to see Gaga and Ringo.
Oh, lots of packing in there somewhere. Arguing about how to get everything back. Packing, weighing, unpacking, repacking, arguing.
Collapsed on the dang floor when trying to get up. Briefly unable to figure out where I was, what had just happened, and the orientation of the world around me. Hurt my dang arm on the bed.
New Year's Day brunch with everyone at the condo, then to the house. Massage from Akinori. Listening to Janis Joplin on the stereo with Dad & M. Awesome ramen & gyouza dinner reluctantly led by H's uncle. Wine and cheese and Cheeza, as usual. Finished packing. Finished second New Sun book. Recorded Goodnight Moon for friend's baby. Wrote this. Better get to bed.